Welcome to the Back To School Blog Hop!!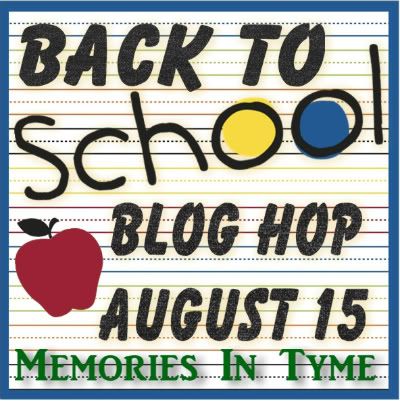 We're so happy you could join us for this super-fun hop showcasing cards, layouts and projects for Back To School!! You'll find an array of ideas throughout the hop -- From teacher gifts to lunchbox notes, we hope you'll enjoy each and every project along the way!!
Class is just about to start, so let's get hopping!! If you've hopped over from
Susan
, then you are in the right place!! If you've just popped in to visit my blog and you'd like to join our School-Time FUN, then please CLICK HERE to start at the beginning with
Lynda
's blog!! Several stops along the way will be offering some nifty prizes, so please be sure to keep an eye out for that!!
For the hop today, I've created picture frames for my Grandkids to put their first day of school pictures in. I had purchased wooden frames from Michaels and had painted them black with then adding white faux stitching around the edges. The adorable bears were cut from
Creative Kuts
using the bears from
School Collection 2
. The lettering was cut using Make the Cut with the Trebuchet font and using white scrap paper to make it look like chalk with putting the letters randomly. The apple in the far left corner was using the Makin the Grade cartridge cut in 2.25 inches. I always then, use my Prism Colored Pencils and just shade all of my bears. After all the pieces were glued in place, I sealed not only the frame but the paper using Modge Podge to finish my project.
For my blog candy, I am offering a cut of either the girl or the boy school bears and you get to chose which one!!!
Thank you so much for hopping through the Back To School Blog Hop today!! I hope you will enjoy the rest of your hopping experience!! Your next stop in the hop is
Rhonda
.
Here's a list of the entire hop, in case you get lost along the way or want to revisit anyone:
Lynda -
http://memoriesintyme.blogspot.com/
Anita~
http://www.anitaandbugs.blogspot.com
Jen--
http://www.memorieswithjen.blogspot.com/
Bobbi Jo
http://sweetsassydiva.com
Barbara Rosner -
http://barbaras-crafty-corner.blogspot.com/
Amy -
http://www.lovetocrop.com
Lori -
http://www.scrappinmystressaway.blogspot.com
Dana--
http://danascraftycorner.blogspot.com
Gina -
http://californiascrappin-gcinderella21.blogspot.com/
Margie -
http://mysweettater.blogspot.com/
Crafty -
http://craftyhomemade.blogspot.com/
Rhonda -
http://scraphappenswithrhonda.blogspot.com/
Susan -
http://susanascorner.blogspot.com/
Lynne -
http://slasewcraftiness.blogspot.com
Rhonda -
http://craftingwithblue.blogspot.com/
Thanks again for stopping by
God Bless
Hugs and Love,
Lynne