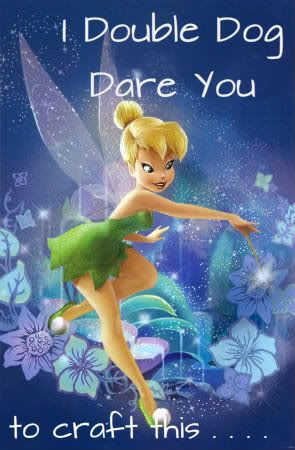 Welcome to I Double Dog Dare You. Each month there is a Double Dog Dare to create a project. This month, is no exception and everyone has been asked to create a Halloween creation that not only depicts Halloween but is a 3-D object.... do you dare to even create???? Let's see how Halloween speaks in a 3-D version ...
The hop begins with Lynne at
http://slasewcraftiness.blogspot.com/
. If you arrived at my blog by accident, don't get me wrong as I love you visiting me but I wouldn't want you to miss one single stop along the way!!!!! Here's the complete line-up just in case you would happen to get frightened and need to close your eyes.......
Lynne Kirsch ~
http://slasewcraftiness.blogspot.com/
Kimberly Pate ~
http://scrappingrookie.blogspot.com/
Lucy Kelleher ~
http://love2createitall.com
Lisa Peters ~
http://handmadewithlove-lisa.blogspot.com/
Anita Cannon
http://www.anitaandbugs.blogspot.com
Janet Smith ~
http://www.ladyluvbug.blogspot.com/
Greetings Earthlings. My name is Oma, I am the master alien. Lynne has been hopelessly (and willingly) abducted by aliens. She doesn't know it yet, but we are taking over her blog for the Halloween blog hop. We know Lynne is a dedicated and very talented crafter, and this project is just the cutest. Lynne's project for the Halloween Hop is a very cute treat bag for her grand daughter. I wonder if her cute little granddaughter will dress up like an alien for Halloween. My guess is she will dress up like a little princess, or a doll. She is such a sweet little angel.
Lynne tells us aliens that crafting is her passion, especially when she is crafting for her grandkids. Here is the recipe for the adorable project.
* Plantin Scoolbook Cricut Cartridge for the box
* K and C Company for the cute Candy Paper
* The Candy Cane Bear is a pattern from Little Scraps of Heaven (you will find it in the dollar specials)
Lynne tells me that she attached the Candy Corn Bear with an Action Wobble. She also tells us that her granddaughter really loved the box and kept kissing it and calling it a baby. Being the smart alien that I am, I would bet that Grammie filled the box with some cookies or another sweet treat for her granddaughter. I bet is was alien shaped cookies. Yes, that is it. That is my story.
Okay earthlings, you don't want to miss any of the wonderful projects these ladies have for you today. Please move carefully from one blog to another, you never know when we may come after you next. Your next stop along the way is
Kimberly
!!!! Have a great Halloween and remember the most important words "
Trick or Treat
"
Enjoy the hop and Happy Halloween!
God Bless and thank you for stopping by
Hugs, Love, and Pixie Dust
Oma
*won't Lynne be surprised when she sees I have hijacked her blog, good thing I have magic powers and I can hide at the blink of an eye*