Happy Terrific Tuesday everyone!! It's another fantastic and beautiful day today -- A little on the humid side, but with the sun shining and the birds singing, it really makes it all worth it!! :)
My name is Amy, and today I have the distinct pleasure of being a Guest Designer for Lynne here at "Her Craftiness"... I 'met' Lynne through another blogger (
Kari
) a short while ago, but have already become very fond of my sweet new friend!!
A little about me...

I am 'The-Mom' to two wonderful teenagers (lovingly referred to as 'The-Girl-Child' and 'The-Boy-Child' on my blog)... I am quirky and silly, I love to make people laugh, and I like exclamation points and :) smiley faces!!! :) :) :) I'm more than a little OCD, especially when it comes to my creations -- I like clean lines and balance; however, my craft room (or office) doesn't count for that! :) I am extremely blessed (even if I forget that from time to time)... I've been 'crafting' for as long as I can remember -- My parents are extremely talented creatively and that's something they've passed on to my siblings and me (and I hope I've passed on to my children too)!

When I'm not crafting, all of my 'favorite things to do' involve spending time with my kids -- They have been the most incredible gifts to me. Sure, spending time with them might mean standing in the pouring rain (or blazing sun) at track meets and sloshing through muddy fields during cross-country season, but it also means 'Movie Night Mondays', guitar-serenades, sports events and musicals, amusement park fun, and plenty of laughs!

My life experiences have taught me that today is the most important day of your life; the people that you love should always be cherished (even when you disagree with something they say or do); and doing ANYTHING that makes you happy without giving you peace doesn't really make you happy, but anything that gives you peace is worth doing...
Now on to my project!!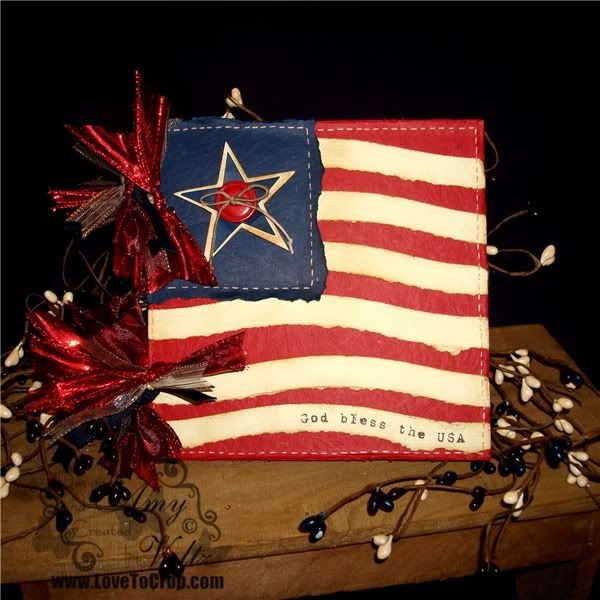 Lynne asked me to share something with you with a "God Bless the USA" theme... My regular followers know that isn't too difficult for me!! :) I love anything patriotic, Americana, and red, white, and blue!! And so... With that in mind, I created a quick project that also gives me the opportunity to journal about some things I'm thankful for...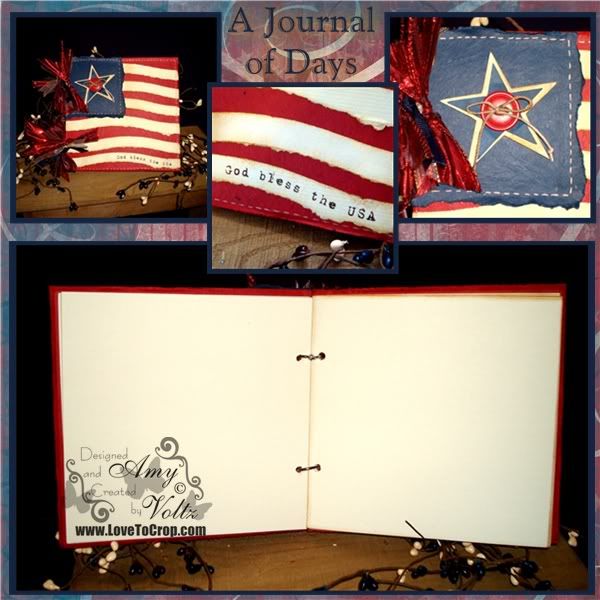 My mom once gave me a book called "A Journal of Days"... It had dates throughout the book, but didn't include the year, so you could jot things down on different dates and then look back at different events from year-to-year. Similar to a diary, but more of a way to compare... Since I think it's important to have a place to jot down things that you are thankful for -- answered prayers, praises, fun events, moments with friends -- I've wanted to create a journal for this for some time. Lynne's invitation to be a guest designer and design something with the "God Bless the USA" theme was a perfect chance to do this.
The journal itself measures only 6"x6". I used two pieces of chipboard for the base and covered it with some handmade red paper. I then tore wavy strips for the flag stripes using my
Creative Memories Wavy Tearing Tool
and distressed the edges with caramel ink.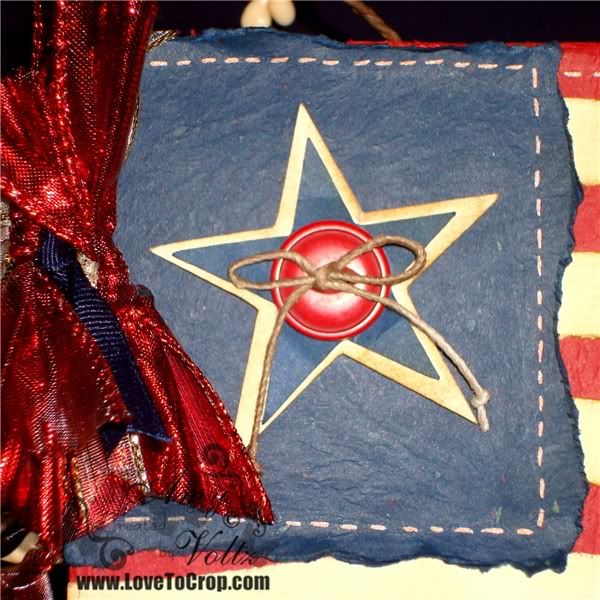 I cut a 3"x3" square of blue handmade paper and tore the edges before adhering it to the top left corner of the journal. The stars were cut from the Plantin SchoolBook Cricut Cartridge (both at 1.75", blue with base feature, white with shadow feature), distressed and inked, and adhered with a pot dot. My 'found' red button matched the red paper perfectly, so I tied some variegated tan hemp cord in a bow and adhered that to the stars with a glue dot. The stitching was added with my
metallic copper pen from Creative Memories
. I love how the copper matches the 'antique' look of the journal...
The "God Bless the USA" stamp is from the
K Andrew Designs
Stamp Art Set called "
Freedom Isn't Free
"... Kristal has designed each stamp set with card-makers and crafters in mind -- Every set is perfectly themed for a large variety of cards and projects. Additionally, each stamp set benefits charity!! At least $1 from the sale of each stamp set is given to one of the charities carefully selected by Kristal. If you are not yet familiar with Kristal's stamps, please take a moment to visit
K Andrew Designs
-- While you're there, do something nice for yourself AND for charity and pick up one of her AWESOME stamp sets!! You'll be SO glad you did!! :) **I am often asked how I get the 'wavy' effect of the stamp since this stamp is completely straight on the packaging... Because the quality of these stamps is so wonderful -- nice and thick with fantastic 'stick' -- I simply place the stamp on my acrylic block in the wavy pattern that I want it to stamp. When I take the stamp off the block, it goes right back to being straight!!**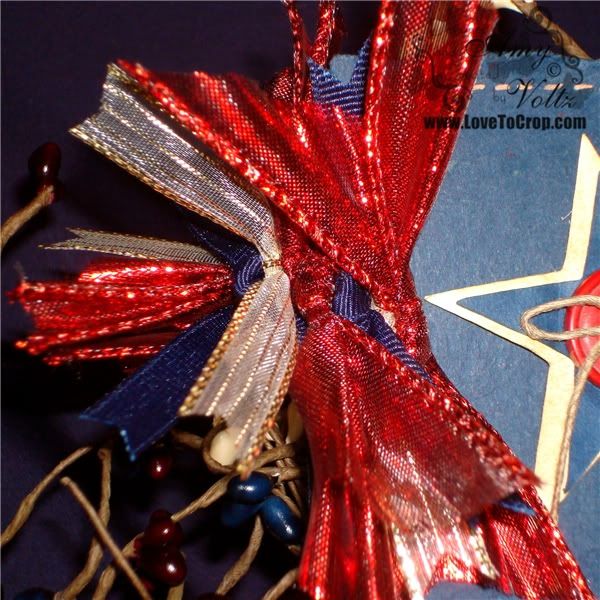 Tying the ribbons onto the binder clips gives the journal a finished look... I added some 5.75"x5.75" cardstock to the inside of the journal after distressing the edges with caramel ink, and my journal is ready to go!! :)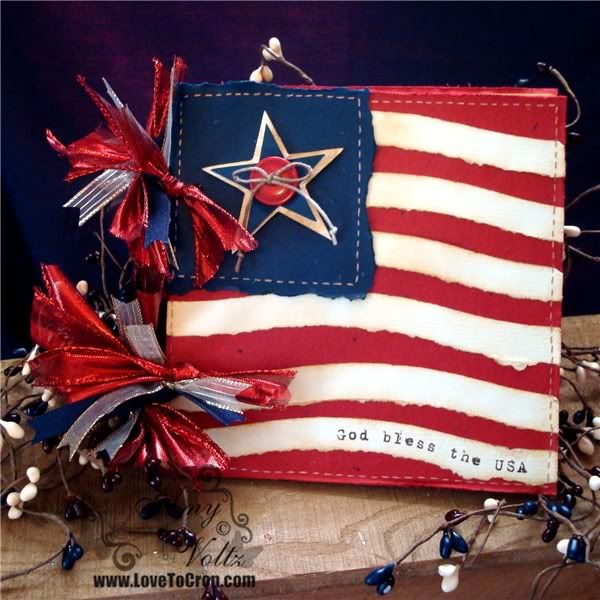 I hope you have enjoyed my "Journal of Days" today... If you have any questions, please feel free to ask in the comments and I will get back to you (please be sure to leave your blog address or a way for me to contact you)... Now, there's a little surprise GIVEAWAY for one lucky follower today!! There are a few "rules", so to be eligible, please do this:




Please be a follower here at Lynne's blog and leave a comment on this post...




Of course, I'd love for you to be a follower of my blog too!! Please hop on over there and become a follower (if you aren't already) and leave a comment on the 'matching' guest designer post there telling me something YOU would write in this journal (something you're thankful for, something that makes you happy, something you want to share)...



Would you like to know what someone will win??? I'd like to send the winner one of these journals!! I'll even let you pick the theme (especially if you are one of my friends from outside the USA)!! OR... If you're all about making one yourself, I'll be happy to send you enough supplies to create one of these yourself!! Be sure to leave a way for me to contact you (your blog address or email address -- in safe 'scrapbookingwithamy at gmail dot com' format!!) or check back at
my blog
next MONDAY, July 18th to see who the winner is). Thanks for stopping by!! To visit my blog, please click on my button below: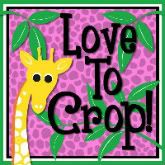 I want to thank Amy for being my wonderful Guest Designer today!!! Amy is a sweetie and please be sure to stop by her blog. Also, I want it to be known, my wonderful and fantastic button was designed by Amy ----

God Bless
Hugs and Love and thanks to Amy
Lynne