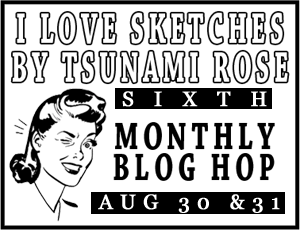 Welcome to I Love Sketches by Tsunami Rose Blog Hop Day 1
- I'm sew glad you came to see my I Love Sketches by Tsunami Rose for August 30, 2012. Thank you for joining us on the 6th monthly blog hop, hosted by Daisy Collins, creator of Tsunami Rose Designs!!
This month, our theme is a free-style using 6x6 printables from the Tsunami Rose Designs Zibbet shop!!! Please, make sure to visit her shop where you will be able to view all of her affordable designs! She creates all of her designs with a vintage flair that is perfect for all of your shabby chic projects!!! And, of course, make sure to grab your copy of August 2012, I Love Sketches by Tsunami Rose which also includes two (2) free scrapbook papers!!!
The blog hop rules are simple:
Comment on the participating blogs with your email if possible

Check back on Daisy's blog September 2, 2012, for the winner

Win a $25 gift certificate to spend on Tsunami Rose Designs printables! As well, as your own copy of August 2012, I Love Sketches by Tsunami Rose
Want to be inspired daily??? Join our Facebook Group!! View daily cards of others using I Love Sketches by Tsunami Rose and get weekly free printables!!!
Check out our YouTube video for today's sketch!
This is what I have created with Sketch #10 for August 30, 2012:
I love this card with the elements that I had used not to mention the various shades of brown and hope you do also.

What I love most about Daisy's sketches is how it inspires the creativity and to reach to new heights.

The paper is quick and easy to print and I find that I print several copies at one time that I have it ready for when I need it!!! Even, when my printer is running low, I love the shades that I get when printing!
RECIPE:
The sentiment I used was,

"Never regret anything that made you laugh"

My card was cut 6 x 6-inches with DCWV Lady Courtier Stack

My background paper is from a Recollections stack

I used Cricut Elegant Edges Cartridge for the lacey flower and the inset

Inset is from Tsunami Rose Zibbet store, 8x8 Vintage Digital Printable Scrapbook Paper - "Vintage Canning Jars" - Sepia

Button and ribbon are from my stash of course!

Sentiment is on a Cricut Lacey Labels Cartridge which was shadowed with the Mason Jars also with both layers inked
There is a fabulous line-up for today's hop and I encourage you to visit my Design Team Sisters to see their creativity and how they met the challenge of the sketch!
You will become addicted and rise to the challenge!!!
God Bless You and Thank You for Visiting Today.
Be sure to stop back on a daily basis
to see if I am able to meet the challenge of a card a day!!!!
Hugs, Love, and Pixie Dust,